Reviews
Interviews
On form Manics and something different from Dylan The Radar festival 2008 (CRO)
20.06.2008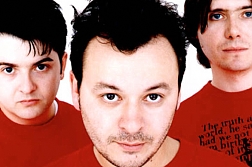 Thunderous applause as lyrically gifted rocker Bob Dylan finished his two-hour-set marked the end of a great night at Varaždin's Gradski stadium. The 67-year-old headlined this year's Radar festival – a one-night event also featuring Majke and Welsh rockers the Manic Street Preachers.
Beside variations of 1950s blues songs, Dylan played his own classical tracks in a way that made them almost unrecognisable. His fans did not seem to be disappointed as they showed their full support throughout the set that ended with his most famous track "Like a rolling stone" and a "Thank you, fans!", the only thing Dylan said throughout the whole night apart from introducing his band.
To criticise his "singing" these days, which rather resembles a sloppy croaking, would be blasphemy, but it was impossible to sing along with his songs.
Played live, legendary songs such as "Tangled up in blue" or "Just like a woman" did not have too much in common with their album versions. It all worked better with "Ain't talkin'", the suspense-creating extra-long track from his recent work "Modern Times".
The venue was half-empty during the day, with some music fans spending their evening in front of the big screens watching that day's Euro08 matches. But when Dylan's slot was due, 16,000 people turned up to see the legend perform.
The performance of Welsh format Manic Street Preachers was the evening's highlight. Still touring in support of their 2007 album "Send away the tigers" which showed them back on form, the band fronted by James Dean Bradfield delivered a very ambitious and energetic show.
Besides fan favourites such as "A design for life" and "The masses against the classes", their show also featured a terrific version of Rihanna's smash hit "Umbrella".
"Definitely see you next year!" Bradfield promised, gaining extra applause for congratulating Croatia's national football team for winning their first two games at the Euro.
RADAR FESTIVAL, 13. Juni 2008 (Gradski Stadium, Varazdin / CROATIA)
20.06.2008, 20:05 von T. Hochwarter



Kommentare
via Facebook
| britishrock