Reviews
Interviews
Lacklustre Oasis to bring some rock routine to Vienna
20.01.2009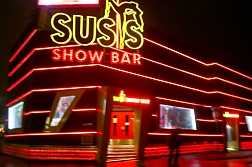 Austrian Oasis fans can brace themselves for some rock'n'roll routine as the Britrock legends are set to return next month. The band, which was formed in Manchester in 1991, will return to Vienna to perform at the city's Stadthalle after three years of absence from the stage. Last week, Oasis performed in Hamburg as part of their current European tour. Britishrock.cc went there to find out whether the infamous Gallagher brother can still pull it off.
Hamburg , Germany 's second-biggest city, is full of contradictions. Its residents, often suspected of being rather reluctant, turn out to be extremely open-minded and straight-forward. And while Hamburg's centre boasts with its shopping streets and beautiful canals – for its tourism marketing bigwigs, Hamburg is simply "the most beautiful city in the world", not less – many head to the city to have a good time in Sankt Pauli, the city's red-light and amusement district. There, at the infamous Reeperbahn, it once all started for the Beatles who played the area's clubs before hitting the big time.
And contradictions could not be stronger. While the Beatles, the big idols of Oasis' Gallagher brothers, performed in the small clubs of Sankt Pauli in the early 1960s, it was the Sporthalle for Oasis on Friday. With around 7,000 fans turning up for the night, the place – probably the most atrocious venue of Germany – was sold out.
But there was not much left of the ferocious rock supernova Liam Gallagher and co. were once famous for when the band after the band entered the stage at exactly 9pm . Kicking off with "Rock'n'roll star" followed by "Lyla", upbeat fans were treated with the best of the band's past and present.
However, the whirl did soon led downwards as material from their new album "Dig out your soul" were performed. Hardly any reaction by the audience, not even for the decent single "The shock of the lightning", made clear that Oasis will probably always depend on their 1994-1995 output.
That said, Noel Gallagher's decision to dismiss classic "Live Forever", probably the best song he has ever written, is a mystery to many. Noel however manages to compensate this bitter sacrifice with reintroducing acoustic favourite "The Masterplan".
Oasis, who generally appear tired and burned out that night, managed to conciliate their fans with Beatles classic "I am the walrus" as last song of the encore. Frontman Liam Gallagher failing to hit any high notes was the number one talking matter after the show. Only a few days later, the band's management announced Oasis are forced to reschedule their Düsseldorf date due to a severe throat condition the singer is currently suffering from.
OASIS, 16. Jänner 2009 (Alsterdorfer Sporthalle, Hamburg)
20.01.2009, 21:02 von T. Hochwarter



Kommentare
via Facebook
| britishrock