Garbage confirmed for their Croatian live debut at INmusic festival #14!
10.01.2019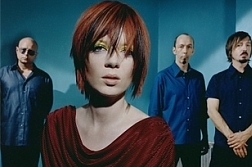 The American rock band fronted by the legendary Shirley Manson will grace the INmusic festival stage for the first time ever! The rock heavyweights will be joining The Cure, Foals, LP, Kurt Vile & The Violators, Frank Turner & The Sleeping Souls and Peter, Bjorn and John this June at Croatia's biggest rock festival - INmusic festival #14!
Garbage is a project founded by producers Butch Vig, Duke Erikson and Steve Marker, who started to work together in 1993, while Shirley Manson joined them in 1994 after finishing the tour with her former band. Butch Vig already worked with the world's biggest bands, being best known as the producer of the legendary Nirvana masterpiece album
Nevermind
, as well as producing critically acclaimed albums for Sonic Youth and Smashing Pumpkins. In 2012, Vig was shortlisted by NME magazine as one of the top 10 best producers in the world. In 1995, Garbage started releasing singles from their first album, and the songs "Stupid Girl" and "Only Happy When It Rains" won over charts worldwide and secured their first top-ranked album on the charts. Their second album,
Version 2.0
, reclaimed their position on the charts, and followed to earn the band two Grammy Award nominations. Garbage also worked on the soundtrack for the 19th James Bond movie and released the title's theme song "The World Is Not Enough", which achieved great worldwide success and was one of the best-selling songs of 1999. Their third album,
Beautiful Garbage
, was released in 2001 and after the release of the album
Bleed Like Me
in 2005, the band announced they were going on hiatus, which was briefly interrupted in 2007 when they recorded several new songs for the retrospective album
Absolute Garbage
. They officially reunited in 2011 and released
Not Your Kind of People
a year later, while
Strange Little Birds
followed in 2016. Garbage announced that they will be releasing their seventh studio album this year, which we will have the opportunity to hear live at Zagreb's lake Jarun this summer!
Garbage is joining The Cure, Foals, LP, Kurt Vile & The Violators, Frank Turner & The Sleeping Souls and Peter, Bjorn and John at INmusic festival #14, along with many more yet to be announced. INmusic festival #14 will take place at the Isle of Youth at Zagreb's lake Jarun from June 24th to the 26th, 2019.
10.01.2019, 10:40 von Tobias Haslinger



Kommentare
via Facebook
| britishrock
INmusic
mit The Cure im Line-Up in Zagreb