The Hives are the newest addition to the impressive INmusic festival #14 line-up!
19.02.2019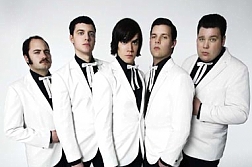 The brilliant Swedish garage rockers The Hives, praised as one of the best live bands in the world, are confirmed to play at INmusic festival for the first time!
The Hives were officially founded in the Swedish town of Fagersta in 1993, and after their debut album
Barely Legal
in 1997, the energetic five soon caught the post-punk revival wave of the early 2000's which launched them to global success. Several decades later, these rock n 'roll heroes have sold millions of albums all over the world, had their songs mark some of the most popular video games and movies, and delighted audiences and critics worldwide with their great live performances. After their first album, the band went on tour and made waves with their unique live shows, but in 2000 after they released their second album
Veni Vidi Vicious
and the hit single "Hate to Say I Told You So" The Hives faced an entirely new level of international recognition. Their third album
Tyrannosaurus Hives
was released in 2004, the fourth, and commercially most successful, album
The Black and White Album
came out in 2007, and the fifth studio album
Lex Hives
was released in 2012. Unwaveringly bold and loud, this brilliant band always performs in black and white suits which have become their trademark, and their energetic performance will surely deliver a dose of healthy punk rock to the Jarun stage this summer. "Walk Idiot Walk", "Hate To Say I Told You So", "Main Offender", "Try It Again" and "Antidote" are just some of The Hives' hits we will be rocking to at INmusic Festival #14 in June this year!
The Hives are joining the stellar line-up including the legendary The Cure, Foals, Suede, Garbage, LP, Kurt Vile & The Violators, Frank Turner & The Sleeping Souls, Sofi Tukker, Peter Bjorn and John, Skindred, and Zeal & Ardor at INmusic festival #14, along with many more yet to be announced.
19.02.2019, 10:40 von Tobias Haslinger



Kommentare
via Facebook
| britishrock
INmusic
mit The Cure im Line-Up in Zagreb