INmusic festival #14 daily line up announced!
16.04.2019
An impressive lineup, affordable ticket prices, and a carefree atmosphere in a one of a kind lake isle setting – all the key attributes defining Croatia's INmusic festival for years now, by both local and world media, and catching the attention of more and more audiences form around the globe.
The fourteenth edition of the biggest Croatian open air festival will feature the legendary The Cure, Foals, Suede, Garbage, The Hives, Johnny Marr, LP, Kurt Vile & The Violators, Frank Turner & The Sleeping Souls, Sofi Tukker, Santigold, Peter Bjorn and John, Skindred, Zeal & Ardor, Fontaines DC, Black Honey, Gato Preto, The Ills, Run Sofa, Mangroo and Edi East Trance Blues, and the organizers will soon announce more names.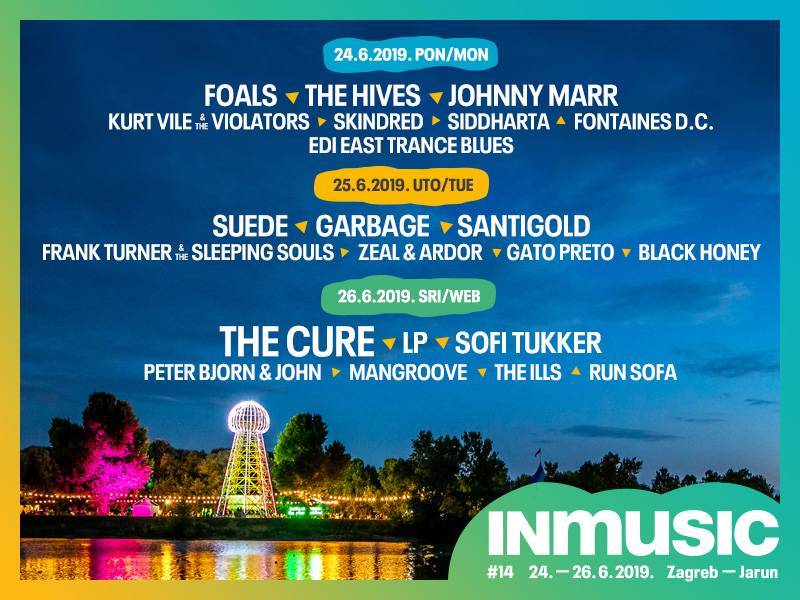 Due to wide audience interest the festival day-by-day schedule of the already announced artists performing at INmusic festival #14 has been revealed. Foals, The Hives, Johnny Marr, Kurt Vile & The Violators, Skindred, Siddharta, Fontaines D.C. and Edi East Trance Blues will rock the first day of the festival at June 24th. On June 25th, audiences will enjoy in the long awaited performances by Suede, Garbage, Santigold, Frank Turner & The Sleeping Souls, Zeal & Ardor, Gato Preto and Black Honey, and on the last day of the festival, June 26th, the stages of INmusic will be graced be The Cure, LP, Sofi Tukker, Peter Bjorn & John, ManGroove, The Ills and Run Sofa. A more detailed schedule of performances will be revealed by organizers in June at the eve of the festival.
The magnificent program and the extremely affordable ticket price for INmusic Festival has also been recognized by one of the most important music magazines in the world, the legendary New Musical Express, which has declared INmusic festival in Zagreb as one of the best and definitely the best value festival in Europe this year.
INmusic festival #14 will take place at the Isle of Youth at Zagreb's lake Jarun from June 24th to the 26th, 2019. Three day festival tickets for just 74 EUR (+transaction costs) and seven day camping tickets for just 33 EUR (+transaction costs) are available online via the official festival webshop.
16.04.2019, 11:17 von Tobias Haslinger



Kommentare
via Facebook
| britishrock