Deftones confirmed for INmusic festival #15!
09.12.2019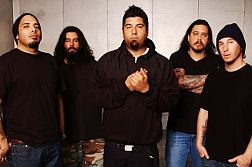 Deftones will take the Main stage at INmusic festival #15 in June 2020 as part of the promo tour for their ninth studio album.
Since Deftones' inception, the multiplatinum, Grammy-Winning alternative rock band from Sacramento, CA have quietly been pursuing two paths, delivering songs defined by churning, double-fisted aggression while also testing the boundaries of music by incorporating elements of psychedelia and shoegaze.
TheLos Angeles Timeswrote of Deftones, "Hard rock thrives on conflict and chaos, and no band has found more beauty and soaring aggression within those ingredients than Deftones."
INmusic festival #15 will take place from June 22nd to June 24th at the lake Jarun isles in Zagreb, Croatia. Three day festival tickets are available via the offical festival webshop.
3 day festivalpass is available for 56 Eur.
09.12.2019, 21:12 von M. Tanki



Kommentare
via Facebook
| britishrock
INmusic
mit The Killers im Line-Up in Zagreb