Goodbye Europe. Ab Oktober wird anderswo gerockt!
22.06.2010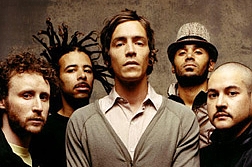 INCUBUS, BUSH, WEEZER, EAGLES OF DEATH METAL, MUSE, PIXIES, OZZY OSBOURNE, THE STROKES, LINKIN PARK, LIVE, SMASHING PUMPKINS, EMINEM...die Festivalsaison beginnt..in Brasilien, Usa, Japan, Indonesien, Thailand, Australien...im Oktober 2010 zieht der Festival-Tross aus Europa ab. Wer ihm folgt kann schon mal Muse für 20 Eur sehen oder mit Incubus vor 100.000 Besuchern/Tag abrocken.
Noch billiger wird es in Indonesien. Deshalb: Ab ins Reisebüro und Badeurlaub mit Festival verbinden! Dieser Tage kommen eine Handvoll mit ersten Namen, bis September werden so bis zu 20 internationale Top-Festivals zusammenkommen, mit teils bunt gemischtem Programm, teils Namen die man in Europa das ganze Jahr hindurch nicht wahrgenommen hat.
Erste Festivals haben wir hier gelistet, Details bitte unserem
Festivalguide
entnehmen. Hervorzuheben ist natürlich die Reunion von Bush, die seit 2002 kein Konzert gespielt haben und mit neuem Album "Everything Always Now" im Oktober aufhorchen werden, zu aller erst am Kroq Festival.
ARIZONA FALL FRENZY
, USA, Tempe
Stone Temple Pilots, Disturbed, Weezer, Stone Sour, Shinedown, Avenged Sevenfold, Primus, Blue October, Halestorm, Airbourne, The Cult, Sublime, Devo, Alestorm, Hell Yeah
HFSTIVAL
, USA, Columbia
Third Eye Blind, Billy Idol, Everclear, Ed Kowalczyk from Live, Fuel, Lit, The Presidents Of The United States Of America, Marcy Playground
KROQ
, USA, Fontana
Bush, Kiss, Eminem, Papa Roach, Blink-182, 30 Seconds To Mars, Bad Religion, Travis Barker, Rise Against, A Day To Remember, Suicidal Tendencies
AUSTIN CITY LIMITS
, USA, Austin
Muse, The Strokes, The Flaming Lips, Sonic Youth, Eagles, Robert Randolph & The Family Band, LCD Soundsystem, Foals, Switchfoot, Norah Jones, Band Of Horses, Deadmau5, Black Keys, Vampire Weekend, Gogol Bordello, The National, Slightly Stoopid, Portugal. The Man, Angus & Julia Stone, White Rabbits, Two Door Cinema Club, Spoon, The XX, The Temper Trap, Amos Lee, Midlake, Yeasayer, The Gaslight Anthem...
SWU
, Brasilien, Sao Paulo
Incubus, Linkin Park, Rage Against The Machine, Pixies, Dave Matthews Band, Kings Of Leon, Avenged Sevenfold, Cavalera Conspiracy, Regina Spektor, Erol Alkan, Sublime With Rome, The Twelves...
SMOKE OUT
, USA, San Bernandino
Incubus, Cypress Hill, Manu Chao, MGMT, Deadmau5, Slightly Stoopid, Atmosphere, Nas & Damian Marley...
JAVA ROCKIN' LAND
, Indonesien, Jakarta
The Smashing Pumpkins, Stereophonics, Datarock, Mute Math, Di-Rect...
MAQUINARIA
, Chile, Santiago
Incubus, Linkin Park, Queens Of The Stone Age, Pixies, Cavalera Conspiracy, Erol Alkan, Rahzel
LOUD PARK
, Japan, Tokyo
Ozzy Osbourne, Korn, Motörhead, Amon Amarth, Avenged Sevenfold, Edguy, Five Finger Death Punch, Dir En Grey, Alexisonfire, 3 Inches Of Blood
VOODOO MUSIC
, USA, New Orleans
Muse, Ozzy Osbourne, Weezer, Interpol, MGMT, Drake, Hot Chip, Gentleman, Eagles Of Death Metal, Deadmau5, Jakob Dylan And Three Legs, My Morning Jacket, Boys Noize, The Airborne Toxic Event, Florence & The Machine...
SOULNATION
, Indonesien, Jakarta
Simply Red...
PLANETA TERRA
, Brasilien, Sao Paulo
The Smashing Pumpkins, Hot Chip, Pavement, Phoenix, Mika, Of Montreal, Yeasayer, Girl Talk, Empire Of The Sun, Passion Pit...
SOUNDWAVE
, Australien, Sydney
Iron Maiden, Slash, Queens Of The Stone Age, Slayer, 30 Seconds To Mars, Stone Sour, Rob Zombie, Sum 41, Third Eye Blind, Primus, Avenged Sevenfold, Social Distortion, Less Than Jake, Monster Magnet, 36 Crazyfists, Ill Nino, Gang Of Four, New Found Glory, Anberlin, DevilDriver, The Ataris, Mad Caddies, The Blackout, Sevendust, All That Remains, Pennywise, The Gaslight Anthem, The Bronx, Terror, The Melvins, Bayside, Alesana, Protest The Hero, The Sword, MXPX
22.06.2010, 13:13 von Tobias Haslinger



Kommentare
via Facebook
| britishrock