Kettcar are coming to Vienna
10.07.2011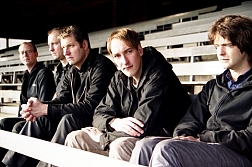 Indie rock fans will be flocking to a popular open air venue in Vienna next week to watch some of the genre's best bands perform live. Hamburg-based rock group Kettcar are headlining the "Grand Hotel Van Cleef" festival (www.ghvc.de) at the Arena next Thursday (14 July).
Thees Uhlmann & Band, Beat Beat Beat, The Hidden Cameras and Young Rebel Set are lined up as support acts of the eagerly awaited event.
Kettcar's debut album "Du und wieviel von deinen Freunden" failed to reach top positions in the album charts of German-speaking Europe in 2002. However, the band won over an immense fan base with their powerful melodies and witty lyrics.
In "Ich danke der Academy," one of their most popular songs, the four-member group make aware that "the opera isn't over for as long as the fat lady sings." The acoustic ballad "Im Taxi weinen" has become a live favourite over the years.
Kettcar's second "Von Spatzen und Tauben, Dächern und Händen" and third ("Sylt") studio album did better in the charts than "Du und wieviel von deinen Freunden." However, the record from 2002 is rated best by most of their fans as well as by the music press.
It will not be the first time for the extensively touring band to perform in Vienna. Kettcar (
www.kettcar.net
) have rocked the Arena's indoor venue before. They also performed at the Frequency Festival in Salzburg five years ago.
Their current tour will take Kettcar to the Sonnenrot festival in Eching, Germany, later this month (15 July). They are also set to perform in Münster (16 July), Bad Doberau (22 July), Cuxhaven (23 July) and Bochum (24 July).
Another event rock music enthusiasts are desperately waiting for to kick off is the Picture On festival. US American punk rock veterans NOFX, German reggae star Gentleman and Belgian band K's Choice will perform in Bildein, Burgenland, from 11 to 13 August (
www.pictureon.at
).
10.07.2011, 22:39 von T. Hochwarter



Kommentare
via Facebook
| britishrock