Our neighbours from VOLT have new additions in their line-up: FOALS!
03.02.2014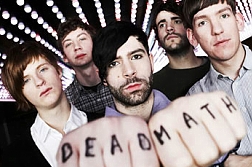 New international all-stars were added to the VOLT Festival line-up. Exactly 150 days are left until the kick-off of the festival held in Sopron, Hungary where Foals, Icona Pop, Steve Aoki, Woodkid, Morcheeba, I am Legion, Sunrise Avenue and Noisia will also perform next to already announced acts like MGMT, Bring Me The Horizon and Volbeat. More names are expected at the end of the month.
Lõvér Camping is now under snow, but in just about 150 days, starting on 2nd July, international all-stars and Hungarian bands will take over this great venue in Sopron, Hungary. The organizers have announced three names in December: Bring Me The Horizon, Volbeat and MGMT. Norbert Lobenwein, main organizer of the event, said: "After last year's success of VOLT we felt that the interest in the 2014 event will be high, but even we did not expect that sales of the Early Bird passes will double."
Now eight new international stars are announced in various genres. For the first time in Hungary,
Foals
, will hit the stage, recently awarded as 'Best Live Act' in 2013 by Q Magazine, while they have also topped the 2013 NME readers' album and track of the year poll. Super cool Swedish girl band,
Icona Pop
, as well as iconic DJ-Producer,
Steve Aoki
, and shooting star Woodkid will also perform in Sopron. One of the favorite festival rock bands,
Sunrise Avenue
, will play and coming back with a very unique sounding album,
Morcheeba
will also perform, lead by the irresistible Skye again. Put together from members of Foreign Beggars and Noisia,
I am Legion
, will be the d'n'b twist in the line-up and after their gig,
Noisia
will take over the party making.
Zoltán Fülöp, co-organizer of the festival, added: "We are positive that a lot of people will be happy of today's announcement, as these acts are not only on top of our wish machine polls, but also have a strong showing on music charts all around the world. More names will be announced by the end of the month!".
For more information and tickets check:
www.voltfest.com
03.02.2014, 22:40 von Tobias Haslinger



Kommentare
via Facebook
| britishrock
Volt
mit Thirty Seconds To Mars im Line-Up in Sopron