EXTRA DAY at VOLT! Plus 30 Seconds To Mars, Birdy, Hatebreed and more!
27.02.2014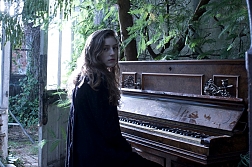 New all-stars were added to the VOLT Festival line-up. The organizers announced Thirty Seconds To Mars, You Me at Six, Birdy and many others to this year's program. A mysterious post on the official Facebook page revealed that the event will be one day longer this time, however details will follow only next week.
VOLT Festival, organized in the Hungarian city of Sopron, will already host bands and performers as Foals, Volbeat, Bring Me the Horizon, Icona Pop, Steve Aoki, MGMT, I am Legion, Sunrise Avenue, Woodkid, Morcheeba and Noisia. Now new names were announced and main organizers of the festival, Norbert Lobenwein and Zoltán Fülöp, added: "It seemed impossible to get Thirty Seconds To Mars to VOLT, as they are playing at three different places in these four days, keeping only one day to relax. After receiving thousands of emails from fans to invite them we didn't give up and now they are the part of our program in 2014 as well, for the third time."
Thirty Seconds To Mars
– comprising brothers Jared Leto and Shannon Leto and Tomo Milicevic – has sold over 5 million albums worldwide and the band's videos have more than 300 million views on YouTube. They released four studio records, including 2013's Love Lust Faith + Dreams. The band has circled the globe in sold-out shows, playing over 300 shows in nearly 60 countries on six continents to 3 million people, thereby breaking the Guinness World Record for the longest-ever concert tour by a rock band.
At Sopron the fans can enjoy the music of the five-piece rock band from Weybridge,
You Me at Six
. Their music is based on passionate guitar riffs and has an overwhelming and intense effect on audiences while speaking to their emotional side as well. At this year's VOLT Festival they will present the powers of their freshest album, Cavalier Youth.
Jasmine van den Bogarde, aka
Birdy
, is a British singer-songwriter with a unique voice and irresistible charisma. The folk rock princess from Lymington has all the potential to become one of the biggest names of the British alternative pop scene.
Canadian DJ and producer,
Excision
, has made a name for himself with his hard hitting, bass-centric, massive and relentless dubstep. His elemental performances are packed with mind-blowing visuals and an arsenal of synthetic sounds that will skyrocket you into a state of trance. A guy from Edegem is responsible for Belgium's most sought-after, premium category drum'n'bass that is produced straight to be exported worldwide. Boris Daenen, aka
Netsky
, is the current star DJ and producer of Hospital Records despite his baffling young age and he has all the potential to become the No.1. drum'n'bass champion of the world.
Hardcore giants from Connecticut,
Hatebreed
, have been flooding the world with their extra heavy, relentless and brutal metalcore and pumping up the crowds with huge doses of adrenalin for two decades now. James Jasta and his crew will be tearing up the stage at VOLT Festival with their latest, 6th studio record, The Divinity of Purpose.
Greg Dulli and his legendary band,
The Afghan Whigs
, are true alternative rock heroes. After more than a decade of absence the band made its comeback in 2012 and will be releasing its brand new record, Do to the Beast, this spring after 16 years.
This Japanese band is made up by the three lovely and crazy female founding members, Ikkyu, Motoko and Hiromi and their incredible drummer Kazutaka Komaki.
Tricot
makes energetic rock performances are unpredictable and exciting without becoming abstract.
Kuroma
is the cultic band of American rock musician and producer Hank Sullivant who is also known for his stint as touring guitarist for MGMT. The band has released three albums so far in the style of the 60s – 70s psychedelic rock although the band likes to refer to their music as "transmutilation".
VOLT will be one day longer
VOLT Festival has released a mysterious Facebook post 26th February about adding one extra day to the event. Despite the thousands of likes, more information will only be revealed next week, but the most likely is that they have booked someone really special and wanted. However, those having a VOLT Festival pass can enjoy the extra day with a special discount. This announcement makes VOLT six nights long, as the venue, Lõvér Camping in Sopron, will already open its gates 1st July.
27.02.2014, 16:22 von Tobias Haslinger



Kommentare
via Facebook
| britishrock
Volt
mit Thirty Seconds To Mars im Line-Up in Sopron