Hurts, Nero and Modestep coming to VOLT Festival
13.03.2014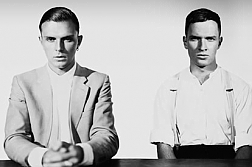 With new names added to the line-up there are more than twenty international stars playing at the 22nd VOLT Festival this summer. Due to a huge demand Hurts will return this year to Sopron, while thousands are eagerly waiting for the live shows of Nero and Modestep as well. Karnivool, the chart topping Milky Chance and The Strypes – opening for the Arctic Monkeys - are also part of the program.
Last weekend the organizers of VOLT made a promise that if the song by
Hurts
posted on their official Facebook page reaches more than 1000 likes they would contact the band and it didn't take such a long time. "It only took a couple of hours to get more than enough likes, people really wanted Hurts to return to VOLT after their fantastic concert last year. As we promised we contacted the band immediately and we got lucky. In a couple of days we were able to seal the deal." – said Zoltán Fülöp, main organizer of VOLT. It's probably not just luck though that the band is returning, last year Theo Hutchcraft himself said in an interview that VOLT is one of the best festivals he has ever been to. By the request of the fans Hurts will return to VOLT 5th July!
Futuristic, ultra suggestive, relentless, dynamic, progressive and fresh electronic music. These are the characteristics of the two British producers and the singer Alana Watson with their project
Nero
. They are taking Europe by storm since their start in 2010 and the fans at VOLT have been waiting for them for four years now. On 4th July they will be closing the party at the VOLT Main Stage with their live show!
Karnivool
has been active for more than 15 years now and their energetic rock music earned them three golden albums in their home country and amazing reviews by the critics along with numerous musical awards. Anybody interested in what's going on in contemporary rock music shouldn't miss their show in Sopron!
One of the most exciting names at this year's VOLT Festival is
Modestep
for sure. Their bombastic stage performance won't leave any of our senses untouched. Their songs are always among the top of the British charts. This four-piece from London is one of the most ambitious and most promising dubstep bands around. Live at VOLT Festival this year: Modestep!
The most important radio stations throughout Europe are playing
Milky Chance's
song Stolen Dance in heavy rotation for weeks now. This fresh and ambitious duo is conquering the world right now. Starting out from Germany they play their chill, cozy and joyful songs that are a true melting pot of reggae, lounge and alternative folk. Don't miss their gig!
We know for two weeks now that the most popular festival band of the world, the Arctic Monkeys will be performing at the extra day of VOLT Festival. Due to the band's request a young and talented Irish band,
The Strypes
will be opening for them that day. Their upbeat, tight and dynamic classic r'n'b and blues made them UK's favorites lately and it is guaranteed that they will be the hit at all festivals this summer. Their mind blowing stage performance earned them the respect of the critics and the admiration of some of the most famous musicians, so you can't talk about them without comparing their music to the great old bands of the genre. Their popularity is growing with every show, so it is guaranteed that they will turn you into a true fan of theirs at VOLT this year.
High demand for Arctic Monkeys
Ticket sales for the additional day of VOLT, 6th July, when Arctic Monkeys will be rocking the stage, have started less than a week ago in many European countries. Thousands of tickets have already found their new owners. "This unexpected but very pleasant event gave the organizing team a lot of work. Since the festival is going to last for one more day we have prepared an upgrade ticket at a highly discounted price for those who would like to add another day to their festival experience. We have released a new five day festival pass that guarantees the full VOLT package including the Arctic Monkeys concert and we've also introduced a brand new three day weekend pass. It is clear that there is a high demand for all the different ticket types. Many have asked if there will be other programs on 6th July and I can assure them that VOLT will be providing the usual party atmosphere and programs as on any other day of the festival." – said Norbert Lobenwein, main organizer of VOLT.
Advance round discounted tickets are available until 15 April!
13.03.2014, 19:17 von Tobias Haslinger



Kommentare
via Facebook
| britishrock
Volt
mit Thirty Seconds To Mars im Line-Up in Sopron