VOLT Festival success and record with 120.000 guests
11.07.2014
The 22nd VOLT Festival has ended Monday morning and has proved again that it is one of the most beloved festivals in Hungary. A record number of visitors have attended this time: during 5 days 120.000 guests have arrived to Lõvér Camping and thanks to the live stream of Telekom and Ustream more than 500.000 people viewed the festival from outside the festival area.
Norbert Lobenwein, founder and director of VOLT Festival, said: "Year by year more and more guests arrive to VOLT. This year we broke last year's records and with the one extra day all together 120.000 guests have arrived". He also added that although more people attended there were no problems.
Photocredit: Volt.hu/CsudaiSándor
Different from previous years, this year the Lõvér Camping was also alive on Sunday, as the Brit Awards winner Arctic Monkeys could only make it this day. Zoltán Fülöp, director of VOLT, has added: "For many years here in Hungary and in the neighboring countries thousands of fans awaited one of the most important festival headliners nowadays. So it was not a question that we will prolong the festival with one day to have Arctic Monkeys." Their decision was right, as VOLT not only attracted more guests from Hungary, but many visitors have attended from neighboring countries and even further.
The two names: Sopron and VOLT have merged together finally now. The leaders of the city have declared many times during the festival this marriage and Tamás Fodor, mayor of Sopron, have invited the festival fans to eat some Gulyás in the Poncichter Quarter, where also the most prominent wineries of Sopron have showcased their products. The organizers of VOLT gave a 2.5 meter high and 16 meter long "SOPRON" and "VOLT" sign to the city, which will be exhibited in the city center shortly. On the sign designed and made by Lóránt Hervé many contemporary artists left their work as Nóra Soós, Diána Verebélyi, István ef. Zámbó, András Wahorn, József Szurcsik, Máron Gyõri and also the front man of Hungarian band Quimby, Tibor Kiss with the contribution of the VOLT fans.
Photocredit: Volt.hu/MohaiBalázs
Many international stars have stayed longer at VOLT than stage time. While fans awaited hours at the backstage entrances, the singer of Bring Me the Horizon has slid through the crowd on the 35 meter high giant slide of the Széchenyi 2020 Adventure Park.
The Arctic Monkeys gig on Sunday was the crown of the final day of the festival. The band arriving right from Roskilde first seemed a bit distanced, but right after their gig they fell in love with VOLT: first they have looked around from the bungee jumping basket, then they visited the adventure park and everyone from the band, except the singer, did the bungee jumping and slid on the giant slide. Meanwhile Norbert Lobenwein convinced Alex Turner to sign the unique statue-chair of which more than 21 can be found in the center of Sopron. The singer has gladly signed the chair, made by István ef. Zámbó.
Photocredit: Volt.hu/CsudaiSándor
Record-breaking was this year's live stream as well thanks to Telekom and Ustream. So those who could not come to the festival could also enjoy the feeling and atmosphere of VOLT. During the 4-days stream more than 500.000 people has joined the crowd.
Zoltán Fülöp also added: "The uniqueness of VOLT Festival also lies in the fact that it is a family friendly environment. There is no other Hungarian festival where children and elderly come in such a high number". He also said that the number of people donating blood was also ground-breaking: the VOLT guests saved thousands of lives.
New program of the organizers, the Green Festival project have also had a successful debut. Those arriving to VOLT had to buy 1-1 waste collecting bag and if they collected waste and returned it, they got the price of the bag back. They not only received a T-shirt voucher, but also a certificate of being an environmentally friendly festival-goer. Thanks for this action the festival and neighboring sites were super-clean.
The crowd could mingle around Sopron during the day and could enjoy the hospitality of the locals. In restaurants one could eat the specially designed "VOLT menu". No coincidence, these 5 days are very important in the life of Sopron, in the city and in the neighborhood it was impossible to find a place to sleep at.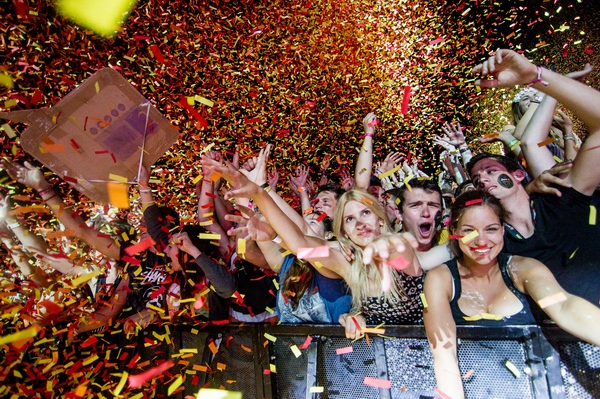 Photocredit: Volt.hu/CsudaiSándor
Sopron was also enjoyed by Steve Aoki, who had time to wander around the beautiful city and he also peaked into some local pubs. This time 6 cakes landed on the crowd during this performance and the bakery responsible for the cakes is proudly using the slogan: "Cake Me!".
On Monday the huge VOLT flag was moved from the city center of Sopron and the festival organizing team is already working on the next big event as MasterCard Balaton Sound will open its gates on Wednesday. In 360 days see you in Sopron!
11.07.2014, 17:40 von Tobias Haslinger



Kommentare
via Facebook
| britishrock
Weitere aktuelle News
2 Dec
NEUE ACTS FÜR DAS Frequency 23! Imagine Dragons ua
29 Nov
Zucchero kommt ins Burgenland. Live-Show im Römersteinbruch Sankt Margarethen!
29 Nov
JOSS STONE neu im Line-Up vom Lovely Days 2023!
29 Nov
Neues Festival in Österreich! Parov Stelar am burgenländischen Butterfly Dance!
29 Nov
NOVA ROCK 2023: Letzte Main-Stage Acts (SUM 41, INCUBUS, ELECTRIC CALLBOY, WITHIN TEMPTATION uvm.)
24 Nov
Neue Acts fürs LIDO SOUNDS 2023! Alt-J, Grossstadtgeflüster, Phoenix uva
22 Nov
Brit-Pop Reunion 2023! Blur, Pulp auf Konzert- und Festivaltour
8 Nov
Das erste Bandpaket für das Szene Openair 2023 ist da!
5 Nov
Winterstart in Schladming: Edmund, Josh. und mehr!
28 Oct
NEUE ACTS für das NOVA ROCK: The Prodigy, Disturbed, Nightwish, Marteria und viele mehr!