Two main stages at Telekom VOLT Festival
01.04.2015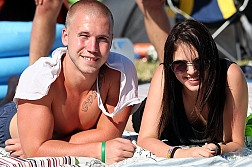 Exactly 3 months to go till Telekom VOLT Festival opens its gates with a great line-up of more than 130 artists on 5 stages. This year VOLT will have 2 main stages, so starting from 3 in the afternoon until 6 in the morning the program will continuously flow. Tickets for the lowest price are still available until 10th April. VOLT Festival is held in the beautiful city of Sopron between 1-4 July, 2015.
VOLT is known for a very colorful line-up, where many different genres are present, starting from Motörhead all the way to David Guetta. This is why VOLT is so lovable, colorful and open. This year, new in the life of the event, 2 main stages will be built facing each other, so gigs can take place continuously from the afternoon till sunrise. Let's see the newly announced names:
Triggerfinger
is a great add-on to the line-up with its dynamic and honest rock music as well as the two talented and ambitious musician-producers from Austria,
Klangkarussel
.
Tiga
has already visited VOLT Festival in the past, but the time is here for him to have a comeback and to please the audience. In addition, Austrian lounge master
Richard Dorfmeister
, d'n'b star
Sigma
, the talented DJ-producer
Wankelmut
from Berlin and the Parisian d'n'b and house formation
Dirtyphonics
will also make the 4 days unforgettable. Among the already announced names we can find:
Slash, Motörhead, David Guetta, Fatboy Slim, Bastille, John Newman, Rise Against
and the
Parov Stelar Band
.
Besides the well-known international acts many local favorites will also play at Telekom VOLT Festival. A total of 137 bands and 89 DJs will perform at the event, also including Hungarian all-stars
Ákos, Quimby, Vad Fruttik, Tankcsapda, Punnany Massif, Brains, Halott Pénz, Wellhello, Kiscsillag
and
Supernem
. Next to them some of the biggest local bands will also celebrate anniversaries, so if you arrive on Day 0 you can celebrate with them. Among the regular Hungarian performers this year we can also welcome 70 year-old blues legend
Hobo, Európa Kiadó
and this year's Hungarian Eurovison delegate
Boggie
. Similarly to previous years the Wine Festival stage will host mostly jazz, folk and gypsy music. Here
Bea Palya, Sena
and the
Budapest Bar
will shine among others.
Tickets for an advance round 1 price are available until 10th April.
Detailed schedule and program:
http://sziget.hu/volt_english/line-up
Tickets:
http://sziget.hu/volt_english/ticket/ticket_info__prices
01.04.2015, 15:21 von Tobias Haslinger



Kommentare
via Facebook
| britishrock
Volt
mit Slash im Line-Up in Sopron