INmusic festival hype is coming. 2017 with Kings Of Leon, Arcade Fire, Kasabian, Alt-J and many more!
28.04.2017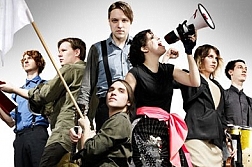 From the early beginnings, Croatian INmusic festival was only getting bigger and better. Every year line-up is greater and much more alike their wealthier and well-known festival rivals in Europe. The main advantage of Zagreb event is location, considering the festival is held near the beautiful city lake which is quite refreshing for body and soul during those hot days. Not to mention delicious local cuisine and famous local beer.
Aside of that, artists are what huge crowd of festivalgoers are most interested in, of course. In this article, we will go through the line-up and see what acts you shouldn't miss if you find yourself at INmusic this summer. (Note: festival line-up is not fully concluded yet)
10. Flogging Molly
Those of you who have attended Flogging Molly shows are well aware what could expect from this seven-piece from California. High-octane, fiery and uncompromising Celtic-punk influenced songs with ravishing energy and socially conscious lyricism. No doubt there will be great amount of mosh-pits and uncontrollable jumping around the Main stage. Their sixth record "Life Is Good" coming up in a month, so audience will hear plenty of new songs from that album.
9. Th' Legendary Shake Shakers
American rockabilly/blues band and their frontman J.D. Wilkes are tireless. One can say they are always touring. They supported on tour some of the biggest music names around, like The Black Keys, Rancid, Hank Williams III, Slim Cessna's Auto Club and even the great Robert Plant. Their performance should be exciting and interesting.
8. Danko Jones
Hard rock group from Canada is one of the most impressive live acts and thier compilation of driving, swaggering songs are going to make you feel alive and superb. Recenty, they published new album called "Wild Cat" so there are bunch of new reasons to get excited about this performance.
7. Repetitor
Trio from Belgrade, Serbia is one of the best bands in SE Europe. They bring a lot of noise, force and power in their performance. The great John Robb said, after watching their show, "they are the best guitar band in Europe right now!"... So, come and check them out. You won't be disappointed.
6. Slaves
English punk rock duo is doing a fantastic job by tearing the every place up when they play. Laurie Vincent and Isaac Holman are not joking at all. They are unstoppable and full of eager to show their live performance capacity. There is no doubt we are going to be satisfied!
5. Kings of Leon
What to say about Nashville's finest? One of the headliners of 12th edition of INmusic are one of the most popular and most lovable festival guests in the whole world. Their catalogue is full of festival anthems and stadium rock songs which festivalgoers adore. Can you imagine the atmosphere in front of the Main stage during "Sex on Fire" or "Use Somebody"? Yes, exactly! Astonishing!
4. Kasabian
Same as Kings of Leon, band from Leicester is one of the favorites when it comes to festival headliners. They know how to put high-energy show and, usually, it is the main story after the end of every festival. They don't spare themselves during performance and want to audience have a wonderful time while songs like "Underdog", "L.S.V" or "Shoot the Runner" coming from the stage.
3. Michael Kiwanuka
Are you ready for the trip across Nostalgia land? If your answer is yes, then you are at the right place. Second biggest INmusic stage will welcome soul singer/songwriter from London, UK. He is very passionate about his music which resembles various influences such as Bill Withers, Terry Callier and Van Morrison. Kiwanuka's last album "Love & Hate" gained extraordinary critical acclaim and went on top of the 2016th end lists of many relevant music media. Warm recommendation for this one!
2. Alt-J
Alt-j will be touring the whole summer in order to promote their third album "Relaxer" which is out in the beginning of June. Their success is quite fascinating. They succeded to raise from relatively unknown band to superstar status in a short period of time. Everyone should see their audio-visual spectacle which, i reckon, won't leave you indifferent.
1. Arcade Fire
Canadian indie-rock outfit are back at the crime seat. They performed at INmusic six years ago, but their fame is now much bigger from that time. Super-talented Arcade Fire members, which have their own side projects, will be visiting European festivals throughout this summer and there are rumors about their new album, so there are chances for audience in Zagreb to hear new songs shortly after release. They didn't tour in Europe for years (except last year 3 shows in Spain and Portugal) and here is opportunity to all to see them live and enjoy in their lively performance.
This is just a part of what can you expect this year at INmusic because, like any other festival, there are lot of new, obscure acts waiting to be discovered. You need only to prepare yourself for great fun, sunny weather and vivid atmosphere and you are ready to enter the 12th edition of best festival in capital of Croatia.
28.04.2017, 18:33 von Tobias Haslinger



Kommentare
via Facebook
| britishrock
INmusic
mit Kasabian im Line-Up in Zagreb