The brilliant Kasabian are set to headline INmusic #12!
20.01.2017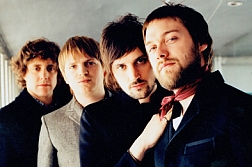 One of the most popular modern rock bands – the fantastic Kasabian, are set to headline INmusic #12! The fierce Leicester four will play their first Croatian show at INmusic festival #12 this June!
Kasabian started recording their first songs in the late nineties but their debut album "Kasabian" was released in 2004. "Kasabian" drew both critical acclaim and audience attention setting the band up to a promising start. Their follow-up 2006 album "Empire" debuted at number one on the UK Albums chart and was a huge success. Kasabian's third album "West Ryder Pauper Lunatic Asylum" released in 2009 also debuted at number one on the UK Albums chart and earned the band a nomination for the prestigious Mercury Award and the award for Best Group at the 2010 Brit Awards. "Velociraptor" in 2012 and "48:13" in 2014 followed, both critically acclaimed and extending the bands fan base significantly. Kasabian's sixth studio album is announced for release sometime this year.
Kasabian have numerous tours, sold-out stadium shows, and headline performances at some of the world's most famous festivals under their belt, but their triumphant Glastonbury headline performance in 2014 in front of over 50,000 Glasto-goers set a new standard for live shows worldwide. This year, Kasabian's contagious and furious energy will rock Croatia for the first time ever on the main stage of INmusic festival #12!
For the upcoming twelfth edition of INmusic festival along with the amazing Kasabian, the equally spectacular Arcade Fire, Alt- J, Michael Kiwanuka, Repetitor will grace the stages of INmusic festival, many more names to come soon.
The twelfth edition of INmusic festival will take place at the idyllic scenery of Lake Jarun in Zagreb from June 19th to June 21st, 2017. Tickets are available at the official festival webshopfor the unbeatable price of 40 EUR.
20.01.2017, 19:42 von Tobias Haslinger



Kommentare
via Facebook
| britishrock
INmusic
mit Kasabian im Line-Up in Zagreb