USA kommt mit einer Welle! The Strokes, Jack White, The Killers, Outkast, Bruce Springsteen, Foo Fighters, Modest Mouse +100e mehr
15.01.2014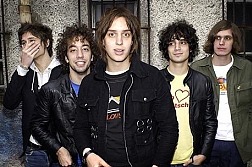 Von Florida bis Atlanta bis New York. Heute wird in den Vereinigten Staaten nicht nur mit Outkast groß ausgeteilt. Sieben Festivals, darunter das starke Hangout Festival und Governors Ball in New York, kommen mit ihren Gesamtlineups. Mit The Strokes als Headliner, Jack White ebenso wie Damon Albarn mit ihren ersten Festivaldates sind quasi überall Überraschungen dabei. Auch Modest Mouse sind wieder im Rennen, und zig Künstler aus Europa wandern bis Anfang/Mitte Juni in die Staaten.
Schon gestern kam das NOJAZZ mit seinem Line-Up. An der Spitze steht Bruce Springsteen mit seiner E Street Band, ebenso sein erster gebuchter Fesivalauftritt für 2014. Was alles von da drüben im Juli/August zu uns kommt?




HANGOUT FESTIVAL: The Killers, Jack Johnson, Queens Of The Stone Age, Flaming Lips, Black Keys, Outkast, Modest Mouse, Conor Oberst, Tegan & Sara, Portugal. The Man, Boys Noize, Amos Lee, Wiz Khalifa, Black Lips, Girl Talk, STS9, Fitz And The Tantrums, Capital Cities, Bastille... http://bit.ly/K2Js6M

ROCK ON THE RANGE: Guns N' Roses, Kid Rock, Slayer, Staind, Motörhead, Seether, Fuel, Avenged Sevenfold, Alter Bridge, Killswitch Engage, Black Stone Cherry, Down, Chevelle, Black Label Society, Theory Of A Deadman, The Pretty Reckless, Five Finger Death Punch, Bring Me The Horizon, Mastodon... http://bit.ly/1as1ZDl
SHAKY KNEES FESTIVAL: Modest Mouse, Dropkick Murphys, Conor Oberst, Iron And Wine, Foals, The National, The Gaslight Anthem, Portugal. The Man, Cold War Kids, The Hold Steady, Spoon, The Airborne Toxic Event, Tokyo Police Club, Cage The Elephant... http://bit.ly/1aGNnQU
BIG GUAVA: Outkast, Foster The People, Vampire Weekend, Slightly Stoopid, Tegan & Sara, Blue October, Cake, Walk The Moon, Girl Talk, Violent Femmes, Grouplove, Haim... http://bit.ly/1aGNsnT
GOVERNORS BALL: The Strokes, Jack White, Skrillex, Interpol, Foster The People, Julian Casablances, Empire Of The Sun, The Kills, Phoenix, Vampire Weekend, The Naked And Famous, TV On The Radio, Spoon, Bastille, Frank Turner, Tyler, The Creator, La Roux, Outkast... http://bit.ly/K2GVJQ

FIREFLY: Foo Fighters, Jack Johnson, Arctic Monkeys, Weezer, Imagine Dragons, Third Eye Blind, Outkast, Kaiser Chiefs, The Lumineers, City And Colour, Iron And Wine, Band Of Horses, Tegan & Sara, Portugal. The Man, Amos Lee, The Airborne Toxic Event, Jake Bugg... http://bit.ly/1ck0m7p

NOJAZZ: Bruce Springsteen And The E Street Band, Carlos Santana, Eric Clapton, Arcade Fire, Public Enemy, John Fogerty, Christina Aguilera, Foster The People, Vampire Weekend, Better Than Ezra, Charles Bradley & His Extraordinaires, Al Jarreau, The Avett Brothers, Robert Plant And The Sensational Space Shifters... http://bit.ly/1hnnuXQ

ALLE FESTIVALS der Vereinigten Staaten in unserer Festival-Länderliste hier.

15.01.2014, 19:28 von Tobias Haslinger



Kommentare
via Facebook
| britishrock